Washington DC finals of the International Turkish Olympiads took place at the Woodson high school in Fairfax Virginia. The event that was organized by Mid-Atlantic Federation of Turkic American Associations (MAFTAA) and American Turkish Friendship Association (ATFA) attracted around 2000 people. Children performed their talents in three fields: poetry, song, and folk dancing. There were distinguished guests including Ambassador Namık Tan of Turkey with his wife Mrs.
Fügen Tan, Congressman Jim Moran and State Senator Chap Petersen of Virginia as well as other distinguished guests.
There were members of the jury from various organizations and talented musicians. TAA President Dr Faruk Taban was also among the members of jury. MAFTAA's Executive Director Mahmut Yeter opened up the Turkish Olympiad and mentioned about the importance of the event. Mr. Mahmut Yeter emphasized once again Turkish as a language of love.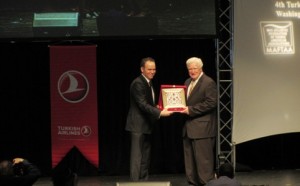 Then, Congressman Jim Moran was invited to the podium. He determined he was happy to host such an event in northern Virginia, especially in his district. Congressman Moran indicated that those children who learn Turkish and contest among each other will be solving problems as well as fostering the relationship between US and Turkey.
A group from Maryland won the 1st place in folk dancing category. Children in this group played a folk dance which belongs to the Silifke region of Turkey. Other groups performed folk dances that belong to eastern Anatolia.
Children contested with each other by singing various songs from the popular songs in Turkey. On the other hand, they read poets from Mevlana and Yunus Emre.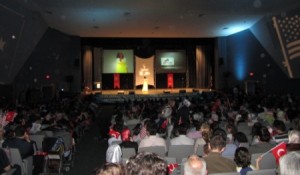 State Senator Chap Petersen said "I am happy to host such an event in our state and to be with you at such a colorful event this evening".
Ambassador Namık Tan stated that "When we make this evening reality we actually achieve very important event. We don't just chose young skills, but we earn Ambassadors of heart who talk our language and understand our culture from various cultures of the world.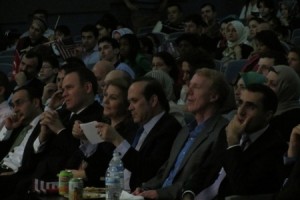 The Awards were given to the successful winners by Ambassador Namık Tan, MAFTAA Executive Director Mahmut Yeter and TAA President Faruk Taban. The event finished with the song called "A new world" with the performance of altogether.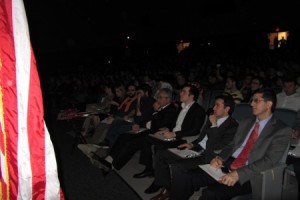 Related News:http://www.turkishny.com/headline-news/2-headline-news/84329-washingtonda-turkce-coskusu
Opening Dance Video:http://www.youtube.com/watch?v=tbGdnqFqueQ